We have come up with the packages below to suit the varying needs of all our livery customers.
Please take the time to read through the packages and their costs carefully, to ensure you pick the best package for you and your horse.
In order to ensure there are no unexpected rises in costs for anyone, please be advised that there will be an annual increase every January from herein, dependant on cost of living rises and these changes will be published on the Le Carriere Stables website
Please note that we will continue to organise worm count and worming on all packages. Bedding and any services can be added as per your individual requirements.
For those of you choosing to opt for the basic package, please note that unfortunately, we will not be able to provide you with an area to store your hay.
All the packages will include hedge cutting and spraying once a year, however if you require topping, fertilizing, rolling etc of your field this will have to be arranged with Matthew at your cost.
Please also consider the little extras we provide for you:
Delivering water to those fields that don't have access to taps.
Collection of poo sacks as required.
Staff on hand should you need any help or advise.
Access to a large flood lit school.
An area to keep your horsebox or trailer.
Hot water shower for your horse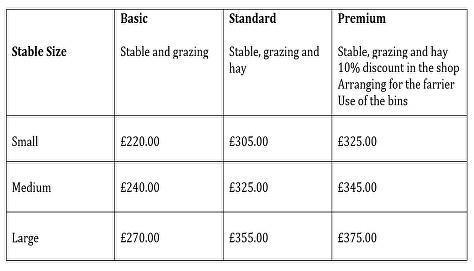 Please see below our individual prices
Full Livery - £20.00
Poo Picking - £10 per hour
Bring In/Turnout - £ 5.50
AM and PM Stable Duties - £5.50
Out of Routine Bring In/ Turnout - £11.00
Out of Routine AM and PM Stables Duties - £11.00
Poo picking for a permanent full livery service - £50 per month
Heavy Duty Skip Out - £10.50
Failure to make up hay nets - £5.50
To Bring out and put away Horse for Farrier - £5.00